New Shooter Seminar
Howdy Pard,
Here is some information on the free seminar we're hosting to spread the word about Cowboy Action Shooting. We were thrilled by the interest shown at our booth during the December and January gun shows and are looking forward to sharing the fun of Cowboy Action Shooting – the fastest growing outdoor shooting sport in the country.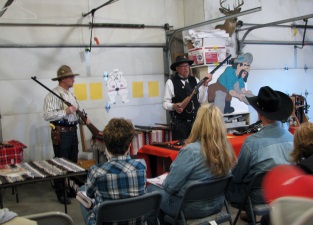 This Free New Shooter Seminar will be held at 9:00 a.m. on Saturday, April 27, 2019 at the Sheyenne Valley Peacekeepers range southwest of Enderlin. (When going west of Enderlin on Highway 46, turn south on 133rd Ave, which is the first gravel road west of the airport, drive one mile, then turn east at the T on 55th St and drive about 1/2 mile. Our range is on the north side of the road. Signs will mark the way. See a map.)
You'll spend a couple of hours in the club house learning how the game is played, the safety rules, the equipment used, the costuming, and what to expect when attending a match. After some light refreshments, we'll go out on the line and you'll have the chance to shoot a stage using our guns and ammo – weather permitting. Please dress accordingly.
We hope you'll also stay for the afternoon to watch our first 2019 monthly match.
If you would like to attend this seminar, please call Diane Dockter at 701-793-4116 or e-mail svpcas@gmail.com to reserve your spot. It's important that you pre-register so not only do we have enough chairs and refreshments, but more importantly – so we know who to contact in the event weather conditions interfere with our planned morning and we have to postpone or cancel. Cowboy Action Shooting is a great family sport so please feel free to bring your spouse and/or teenage children to the seminar, too. Or bring a friend.
For more information about Cowboy Action Shooting, check out the Single Action Shooting Society (SASS) website at www.sassnet.com. You can find out a little more about the Sheyenne Valley Peacekeepers by reviewing this website or viewing our Facebook page.
If you have any questions about the seminar or just want to talk Cowboy Action Shooting, please call Wild River Rose at 701-793-4116 or e-mail svpcas@gmail.com. We'd love to hear from you.
Hope to see you at the seminar!
The Sheyenne Valley Peacekeepers